DSPA NEWSLETTER
SPRING 2010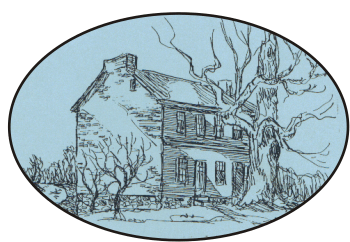 Hale-Byrnes is a happening place! The year 2009 was highlighted by our hosting international visitors. The occasion was September 5 as the French ambassador to the United States and the French Consul General joined about 60 guests for an alfresco dinner on the back patio. The event welcoming the ambassador and consul general marked the occasion of Gen. Lafayette's 252nd birthday. Gen. Lafayette had passed his 20th birthday at the house in 1777, at the time of Gen. George Washington's meeting there with his staff. The evening was sponsored by the Alliance Francaise de Wilmington.
The ambassador and his party were in the area at the invitation of Pencader Heritage Area Association which operates a museum on the Cooch's Bridge Battlefield site. The ambassador laid a wreath at Pencader's memorial to those American and French soldiers who lost their lives in that battle. Hale-Byrnes and Pencader cooperate closely as Gen. Washington and his staff were at Cooch's Bridge 3 days before their meeting at Hale-Byrnes. We, at H-B, highly recommend a look at Pencader's website www.pencaderheritage.org for great information on the history of this area.
Repairs are never ending in such an old house. The final 6 new windows have been installed and energy savings have been apparent during this exceptionally bad winter. The entire cost of all the windows, $25,000+, was borne by our treasury, which is quite depleted. Repair of insect damage to the floor in the south room has been made and paid for, but the badly needed repair or replacement of the 3 outside doors is on hold until we can generate funds. They will cost about $4000, toward which we have been awarded a $1000. grant from Preservation Delaware. The floor and door contract was awarded to 18th Century Restorations of Pottstown, PA, which is well known in Delaware for the quality of their work. The contract was approved by the Dept. of Historical and Cultural Affairs prior to being accepted by the H-B board.
A major reason for the depletion of our treasury was snow removal services for the parking lot, which ran to almost $2000. McBride Landscaping and Lawn Care Services did a prompt and admirable job totally clearing the lot after each snow storm. Donations to defray such costs are greatly appreciated.
The Board of Directors has been enriched with the addition of 3 Boyce Family descendants. Brian and Virginia (Poffenberger) Bussey from New Jersey have joined us. Virginia's mother Belinda Boyce was born in Hale-Byrnes. Father and son Robert and Marco Boyce, local residents, have also joined us. They are descended from another branch of the Boyce family from Virginia, which went to Missouri, to Illinois and coincidently to Delaware. Both branches are joined by a common ancestor in colonial Virginia.
Two new docents have recently joined us, Donna Swain and Carolyn Hansen, whom we welcome gratefully.
We received a grant from the DE Humanities Forum to establish the American Revolutionary Round Table of Northern DE. Periodic open meetings at H-B bring authors & scholars to discuss their research and writings. Check Calendar of Events at end of newsletter for scheduling and fee.
A Policies and Procedures Plan has been established to clarify our mission, vision statement and collections handling. This will enable us to remain true to the niche in history, 1750-1850, on which we focus.
A number of local societies and groups rented H-B in 2009 for their activities, which contributed to our fund-raising. We encourage more people and groups to make use of the house at a reasonable fee. Call 302-543-5723 or 302-737-5792. Total number of visitors to H-B in 2009 exceeded 575.
Hale-Byrnes was honored to fulfill a request from the Delaware Art Museum for the short-term loan of some of our artifacts for a folk art exhibit.
We continue to work with the federally-designated Wild and Scenic White Clay Creek Watershed Management Committee. As part of Hale-Byrnes House efforts as the southern anchor of the program, Board member and Registered Landscape Architect Marco Boyce has designed a proposed rain garden for the Hale-Byrnes property and we continue to discuss potential improvements to Hale Byrnes' contribution to environmental education. Hale-Byrne's Curator, 18th century scholar Kim Burdick, will be the keynote speaker on the afternoon of September 25, discussing Delaware's Revolutionary Rivers. For more information on the Wild and Scenic River programs please contact our partners at: White Clay Creek, National Wild and Scenic River Watershed Management Committee 802 Dallam Road, Newark, DE 19711 302-731-1756 www.whiteclay.org and Email
Congratulations are in order: On March 13, our curator Kim Burdick, received the Silver Good Citizenship Medal from the Robert Kirkwood Chapter of the Sons of the American Revolution. SAR Silver Medal is the highest award given to a non-SAR member in each state. The medal was awarded for her lasting contributions to knowledge of the American Revolution, including as Chairman Emeritus of the Washington-Rochambeau National Historic Trail Association; primary Delaware scholar and lecturer of the era of the Philadelphia Campaign of 1777; co-chairman since 2006 of the Annual 4th of July Bell-Ringing Ceremony in Historic New Castle; and Curator of the Hale-Byrnes House.