DSPA NEWSLETTER
SPRING 2011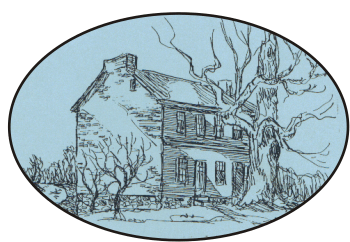 Historic Hale Byrnes House
606 Stanton-Christiana Road, Newark, Delaware 19713
Visit us on Facebook
2011 started off on the right foot when DSPA board members held their Spring Board meeting at a colonial dinner on Friday evening, March 11. Each member brought an 18th century dish to pass.
The board of the George Washington Society visited us in January, and our American Revolution Round Table series kicks off on Saturday, March 26 at 7:30 p.m. when Mitchell Hunt of North Carolina will present his program on the Delaware 2nd at Guildford Courthouse. $5 at the door includes coffee and dessert.
Other upcoming Round Table programs are in the works. So far our offerings include a presentation by Sean Moir, on Saturday evening, April 9. Sean has been working on developing interactive maps showing troop movements in the Battle of Brandywine. His research builds on GIS technology, aided by recently discovered old maps from England; and on Sat., Oct 1, 2011 K. Lynn King, portraying Caroline Herschel, the first woman astronomer. Wear weather appropriate clothing as (if it is not raining), we will be observing the evening sky from the banks of our part of the White Clay Creek. $5 at the door includes coffee and dessert.
Please join us at a very special Spring program and afternoon tea on Sunday, May 15, 2011 2:00 PM - 4:00 PM. Join us when Nancy Gardner presents "Tempest in a Teapot: Women's Lives in the Revolutionary Era." This program is a costumed presentation focusing on 18th century women in their own words and work using a commonplace book to recount events leading up to and through the American Revolution. Nancy's talk is partially supported by the Delaware Humanities Forum's Speakers' Bureau. Reservations required. $10 includes an 18th century afternoon tea. Please send your checks to: DSPA, Treasurer. Hale Byrnes House. 606 Stanton-Christiana Road Newark, DE 19713
2010 was a record-breaking year with a total of 747 visitors.
Part of our success can be directly attributed to on-line public outreach as board member Marco Boyce set up a beautiful Facebook page for us this year that messages members about upcoming events, and Frank Romanelli and Curator Kim Burdick have completely revamped our website. Thanks to Ralph Burdick, we also now have a slide show illustrating activities at Hale Byrnes, which can be run at outdoors events by using a car battery.
Our American Revolution Round Tables featuring scholars discussing their 18th century research continue to attract a full-house. Offered on Saturday evenings at 7:30 P.M. throughout the year, the admission is $5, covering coffee and dessert. Well-behaved children are always welcomed. Speakers in 2010, included authors Nancy Loane; Tim McGrath; Glenn Williams; Gene Pisasle; Bruce Mowday; Cara Blume; and John Nagy. For information on our upcoming programs, please visit our "Calendar" page
We continue to cooperate with the Wild and Scenic River programs and Water Resources at the University of Delaware, monitoring the inflatable dam and hosting a variety of related efforts here. The 2010 catch and release shad run behind the house was spectacular with some fishermen reporting a catch of up to 14 shad in a day. On May 6, the Delaware's Water Resources Department released new shad fingerlings behind the house. A related article may be read on our website by clicking on the Links. Kim also assisted Dr. Gerald Kauffman's interns with their research on Daniel Byrne's mill race and dam which are located near the golf course at Delaware Park.
Docent Nancy Parker, Board Member Oriole O'Neill, and Curator Kim Burdick set up a very successful Hale Byrnes House booth at Creek Fest at White Clay Creek Preserve, Carpenter Recreation Area of White Clay Creek State Park, Newark, Delaware, last May, and plan to do the same again this year on Sat., May 7, 2011 1:00 PM - 4:00 PM . To volunteer at the H B booth, please e-mail us. For general information on Creek Fest, please contact Linda Stapleford at home phone 302-731-0174 or cell 302-584-0311
May 5, 2010 At the request of Northern Delaware's Sister Cities program, Kim hosted a private luncheon along the creek bank for the Mayor of Nemours, France , Valerie LaCroute, and her delegation.
On May 23, Under the leadership of Governor Kai Lassen, the Delaware Society of Mayflower Descendants held their annual Spring Reception at the Hale Byrnes. Their former Governor, Kim Burdick, was the guest speaker.
Summer 2010: Our three exterior doors which had suffered serious water damage over the years have now been repaired and/or replaced with grants from Longwood Foundation and Preservation Delaware. Ralph Burdick has nearly completed getting the exterior wood frames around the windows repainted.
Spring-Summer 2010: Generous volunteers, including Karen Kuhrt and the Delaware Gleaning Society, (John Lentz, Brett Manny, and Marc Anderson), worked hard on our gardens, donating plants and vegetables and installing them. We are looking forward to late spring and summer when Karen's iris and daylilies should bloom along the creek bank.
June 4, 2010: American Friends of Lafayette, based at Lafayette College, Easton, PA. held their national meeting here, Members coming from faraway places like New Hampshire, the American Midwest, and France.
June 5, Dorrie Boyce's funeral reception was held on the back terrace.
June 15, 2010: Docents from the Historic Odessa Foundation visited the house and donated many digital images of our collections to be used on our website.
June 29: We hosted a meeting for "The Marchers" to bring the regional Washington-Rochambeau Revolutionary Route (W3R) members together to discuss plans for the marchers second walk from Newport, Rhode Island to Yorktown, Virginia. In attendance were Lynn Lewis of Greater Wilmington Convention and Visitors Bureau and Joe DiBello, the newly-appointed Superintendant of the Washington-Rochambeau National Historic Trail.
July 14: Kim hosted several members of the newly-forming Red Clay Creek coalition based in Marshallton to discuss their plans to make a greenway spur north off the W3R. Hale Byrnes is located at the confluence of the Red and White Clay Creeks.
September 11: Historian Bruce Mowday lectured to a full house on his book, "September 11, 1777."
September 25: Kim was the keynote speaker for the 10th anniversary of the Wild & Scenic White Clay Creek. Her talk, "Seized in September," about the citizens of Northern Delaware (including the Byrnes family), who were pinned between contending British and American forces, is registered with the Delaware Humanities Forum's Speakers' Bureau. See www.DHF.org
In October, very successful ghost tours were held with a good time had by all.
November 3: The Board of the Delaware State Sons of the American Revolution, headed by Dallas Winslow, held their business meeting at Hale Byrnes House. For information on booking HB for your group or organization, please visit our "About Us" page
November 13: Cara Blume, PhD presented her Delaware Humanities Forum lecture, lecture, "Unfulfilled Expectations: Native Americans & the American Revolution," to the Round Table.
Our Holiday Open House held in December was busy from morning to night. Special thanks go to re-enactor John Foskey and musket-maker Dick Niekamp, and spinners Paula Rudnik, Elaine Staunton, Alice Cooper and Kristina from Germany, and our always faithful friends, the Fifes and Drums of the Delaware Militia, headed by Linda Moss of Newark.