HALE-BYRNES HOUSE
ANNUAL NEWSLETTER
SPRING 2012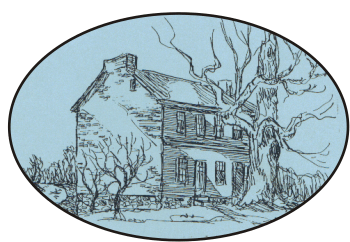 Historic Hale Byrnes House
606 Stanton-Christiana Road, Newark, Delaware 19713
B. White, Editor
Visit us on Facebook
Hale Byrnes hosted over 800 visitors in 2011. Due to resident curators Kim and Ralph Burdick's efforts, activity at Hale-Byrnes House keeps increasing, Some examples:
Most months Kim and Ralph host the Delaware Revolutionary Round Table with speakers on subjects related to the colonial era. Check the website for our current schedule of programs.
The American Revolutionary War Round Table of Northern Delaware, initiated by Kim Burdick, is the official program series of the Hale Byrnes House . Our board has approved the following proprietary statement, under which the Round Table operates:
Be It Resolved that the American Revolutionary War Round Table of Northern Delaware (ARRT-NDE) is a charitable and educational program sponsored by the Delaware Society for the Preservation of Antiquities as a constituent part of its charitable and educational mission.
Hale Byrnes (ARRT-NDE) will be hosting the Second National Congress of Revolutionary Round Tables this year. There will be a reception here for them on Friday evening, April 20th. We especially wish to thank John Foskey, Nancy Gardner and Lynn King for helping with the related 18th century cooking. The group will hold a business meeting in New Castle on Saturday, and have a tour of Cooch's Bridge Battlefield on Sunday, April 22.
Many thanks to Board member and docent, Nancy Parker. With Nancy's gracious assistance we continue to hold our monthly first Wednesday afternoon, 12-3, open house.
Yes, we will celebrate the 4th of July with our regular first Wednesday afternoon opening. In addition, the annual Holiday Open House will be held the first Saturday in December. Details will be on the website.
For the second year, we are one of the sites for Christiana River clean-up. Volunteers are needed for April 21st. Please contact our website if you would like to volunteer. Nancy will be here that day with hot coffee for clean-up volunteers.
With a creek bank restoration grant from Partners for the Delaware Estuary we now have native trees and shrubs planted along the creek bank behind the house. These new plants will help stabilize the creek bank in times of flooding, which occurs all too often. Major flooding occurred during hurricane Irene. Special thanks to Jennifer Egan, Ken Darsney and Board Chairman, Marco Boyce, who has also been working with the state highway department to correct right-of-way drainage deficiencies, which have contributed to flooding of H-B parking lot.
Also due to the flooding, the major upkeep item for the house recently has been installation of a new propane furnace.
As always keeping checking the website for an activities calendar, as events take place all year around.
As always, Hale-Byrnes is available for rent to host small gatherings... see details below.
Remember our annual Winter Open House is December 1, 2012
New officers have been elected to the DSPA board of directors for the Hale-Byrnes House. See the updated list at the end of the newsletter. Five new volunteers have joined our board of directors: Nancy Parker, Michael McDowell, Carla Stone, Debbie Poffenberger, and Chris Mlynarczyk. These interested and talented people add a new vibrancy to the board as activity continues to grow at Hale-Byrnes House.
Please Note: Due to rising costs this is the Last Printed Newsletter you will receive. We are hoping you'll furnish us with an e-mail address, as that is the way we will be keeping in touch from now on. Send your e-mail address to us, HaleByrnesHouse@aol.com to be added to our database.
Resident Property Manager and Curator
Ralph & Kim Burdick 606 Stanton-Christiana Rd., Newark DE 19713 302-543-5723 contact them at: halebyrneshouse@aol.com
The house is open first Wednesday afternoon of each month, 12 noon - 3:00 PM, barring holidays, and by appointment any time. There is no admission fee, but we ask for donations. It's a great place to show off Delaware's heritage to your out-of-town guests. The house can also be reserved for small receptions, business meetings, showers, etc. Cost is $25.00/hour with a 3 hour minimum. Contact any Board member.
HELP PROTECT DELAWARE'S UNIQUE HISTORY - JOIN US!
Please return this form with your membership/contribution/order to: D.S.P.A. 606 Stanton-Christiana Rd., Newark, DE 19713-2109. Make checks payable to D.S.P.A. As a cost containment measure, no membership cards are issued and your canceled check is your receipt for donations. DSPA is a tax-exempt organization.
Contributing Member....$25.00 or more _______
Individual Member....$10.00______Family Membership....$15.00________
Name____________________________________________________________
Address__________________________________________________________
City/State_____________________________________________Zip_________